I really can't believe I've been in Hot Springs for 2 months. I really need a little self discipline in sitting down and writing what's been going on more often. I've been fairly busy, with visiting with old friends, getting used to the new job, and doing some sightseeing. Because I am slow like a turtle, and a well practiced procrastinator, I have now fallen far behind in recording what I have been up to. I will split this up in a few posts. This first one will be on meet ups.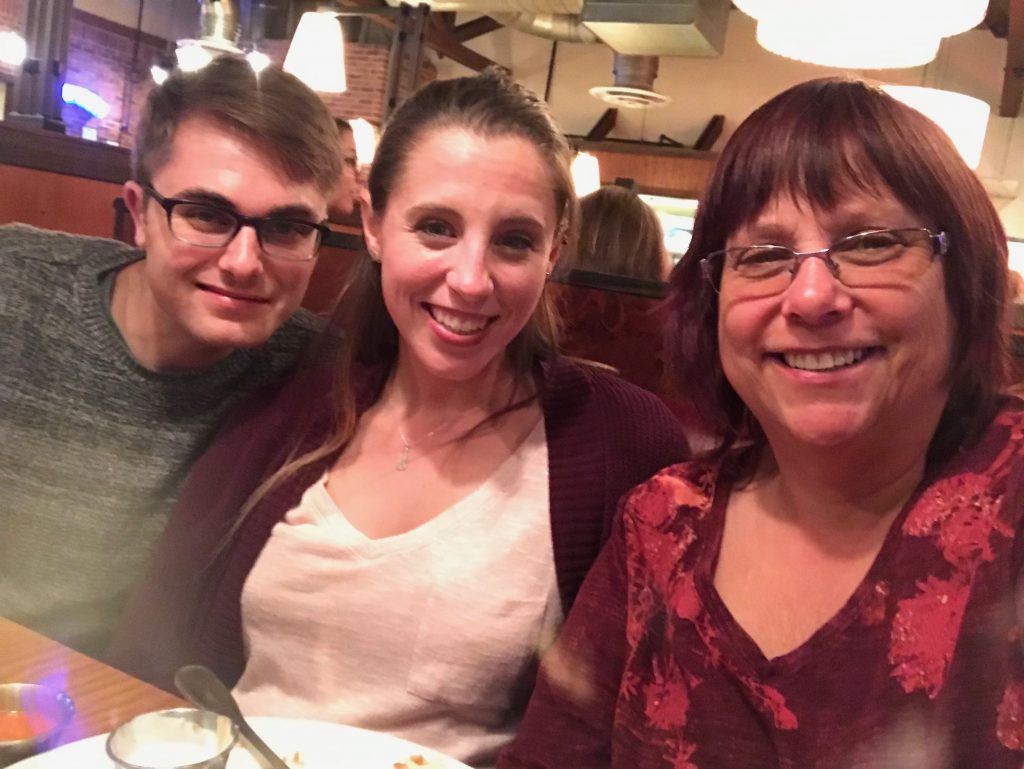 On the way from Mexico Beach Florida to Hot Springs Arkansas I was lucky enough to make one of my stops in Birmingham Alabama. This has been home to my niece Taylor and her husband Sean for a bit while Sean has been working on his education in medicine. The timing was good because right after my visit he finished his schoolwork and they were headed back to their roots in New England. On the night I was there they picked me up at the campground I was staying at and we enjoyed a nice dinner out. They are a beautiful couple, and I wish them all great things in life.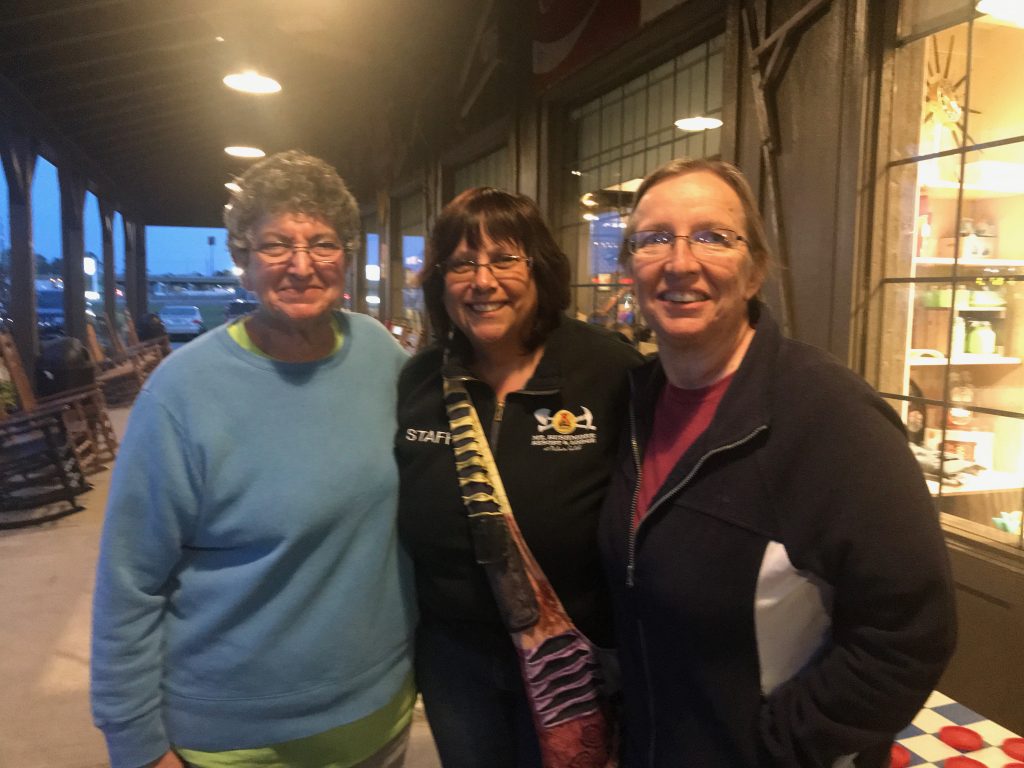 It is always great when you can meet up with folks you have met while workamping. I have worked with Diane and Chris twice. The first time was at the Mount Rushmore KOA in 2017. We really didn't get to know each other very well because I worked as a supervisor in the campground reservation/store, and they worked in the Lodge. They were my neighbors, but most of the time it was just a friendly wave when we saw each other. Then last summer (2018) the three of us worked together at the New York City North/Newburgh KOA. At Mount Rushmore there were many workampers, at Newburgh the three of us were the only ones, and we were next door neighbors. The rest of the staff were local folks. So the three of us bonded. I really got to enjoy their sense of humor. For an example, one day I had my windows open and I sneezed pretty loudly. I got a text from Chris that said "Bless you!". I had to laugh. Thankfully they made me laugh a lot last summer. So when these ladies were heading from Texas to New York, I had the opportunity to meet up with them for dinner at the Arkadelphia Cracker Barrel where they were going to spend the night. They were traveling with some family and we had a great time catching up on things.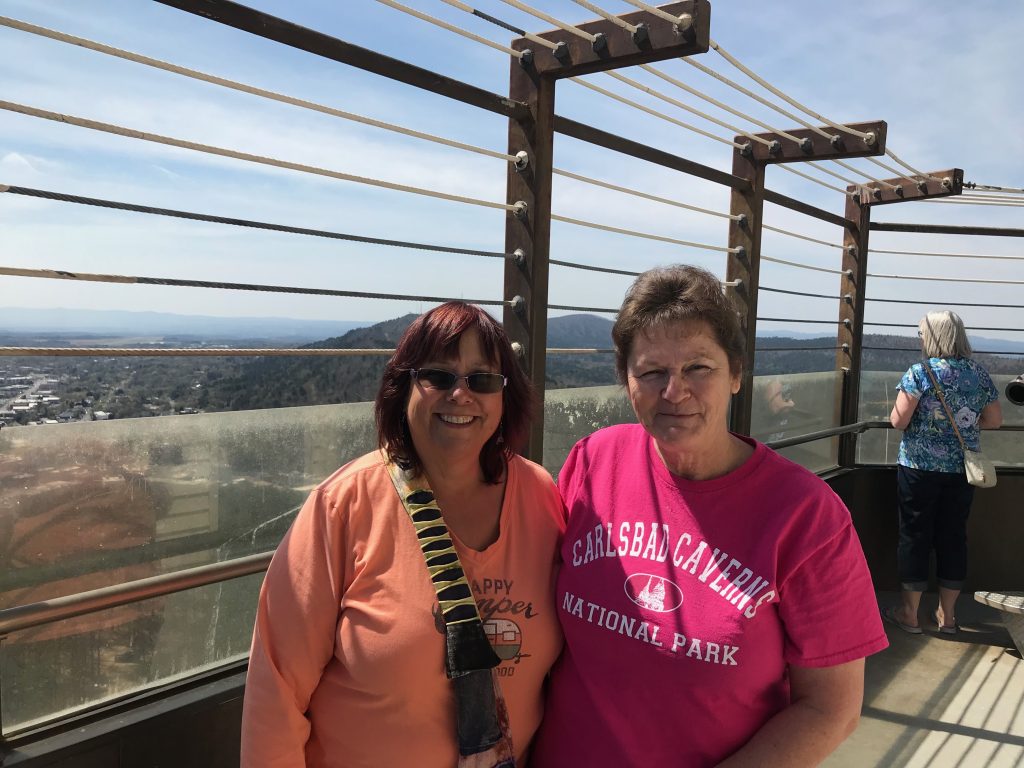 At Mount Rushmore I also worked with Debbie and Michael Maynard. When I arrived in Hot Springs they were staying at a campground on the other side of Little Rock. They came down to Hot Springs to get their National Park stamp and we met up for a nice lunch. Then we went up to the Hot Springs Mountain tower. It was a great view from up there, even though it was too early for things to be green. I need to get up there now that everything has blossomed.
Then I got to spend an evening with Kay and Les, another couple I worked with at Mount Rushmore. They are now KOA inspectors, driving around in a big truck pulling a big fifth wheel trailer, all wrapped in KOA artwork. They go around checking in on all the KOA's in a specific region. The Hot Springs KOA was on their list so I went over to visit on the night they were there. They love Amos so I had to bring him too. There was also another couple that were friends of Les and Kay's that happened to be staying at the campground. We had a great night of swapping stories. I have been blessed to meet up with Kay and Les in Florida a couple of times and they came to visit me in New York on their way to Maine last year. I love these two and always have a great time with them.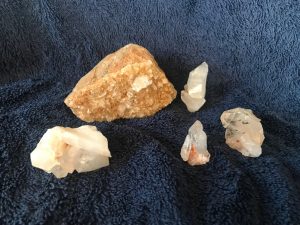 So what does a picture of some rocks have to do with my next visitors? Well, I think John and Carol Miller are true gems. And I didn't get a picture of us together while they were here. And the funny thing about that is their visit with me was the longest of all these visits. They arrived on a Monday, I had Tuesday and Wednesday off to hang with them, and they headed northward on Thursday. I worked with Carol and John at my first KOA job January through April in 2016. Thankfully it was a small campground because I had no clue what I was doing. Carol was a good teacher. And John is good at fixing all kinds of things. We did go crystal mining on one of the days they were here. We didn't find anything too exciting, but we did take away some shiny objects. I am planning on trying another mine soon so I can compare the experience. After mining we got comfortable in outside seating at a Mexican restaurant in downtown Hot Springs. We had some cold refreshments, snacked on chips and salsa, and people watched. It had been three years since I saw these guys, and I had forgotten how much fun they are. I hope it's not so long until our next visit.
The special meeting of friends, and running into them again, and sometimes again and again in different places, is part of what I love of this nomadic life. Of course some of the other part is seeing new things and having new experiences. My next post will be about that. Until then, take care and be kind.