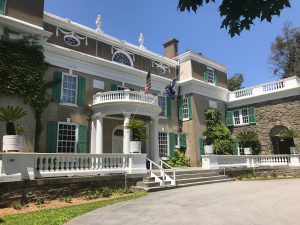 About 40 minutes from my location in Plattekill NY is the town of Hyde Park. It is home to several attractions of which I visited 2 a couple of weeks ago on one of my days off. My first stop was at the home of Franklin D. Roosevelt.
My National Park pass got me on a tour of the house for free. If I had wanted to visit the museum and library it would have cost me $10. So I opted for just the house tour. The beautiful grounds are free for all to enjoy. It also included a short film on FDR's life.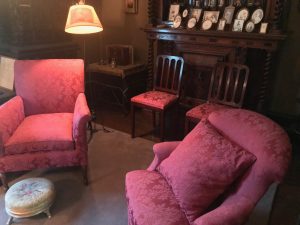 The tour and the movie was quite interesting. Franklin's father purchased the 110 acre estate in 1867. The property included a house overlooking the Hudson River and a working farm. FDR was born in the house on January 30, 1882. He was the only child of Sara and James Roosevelt. He loved it there, and in later years he expanded the land holdings to almost 1500 acres and he planted over half a million trees. In 1943 he began the process of deeding this home to the National Park Service, so it would be available for everyone to enjoy. Eleanor and Franklin are both buried in the rose garden on the property.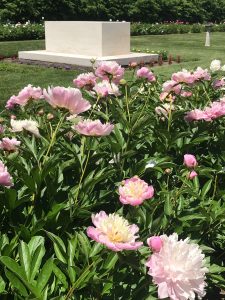 My next stop was Val-Kill, only 2 miles away. This was Eleanor Roosevelt's home. Franklin built it for her in the mid 1920's, and after his death she lived there full time. My NP pass also got me on this tour for free.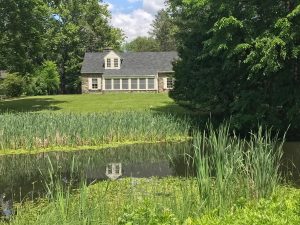 You learn here on the ranger-led house tour and through a short movie they show that she never felt at home in the big house as it was Franklin's mother's house. It was in this house in 1926 that she, Nancy Cook, Marion Dickerman, and Caroline O'day started Val-Kill Industries. It was designed to provide local farmers and their families with necessary crafting skills to supplement their income. They made  furniture and pewter products. Later New Deal programs were based on this model. The house is very down-to-earth, and when you stand in the small living room and look at the corner with 2 chairs facing each other it is hard to believe that John F. Kennedy sat with Eleanor here. The presidential nominee had come to seek her support. She only consented after he agreed to make civil rights part of his platform. She was probably one of the most influential women of her time.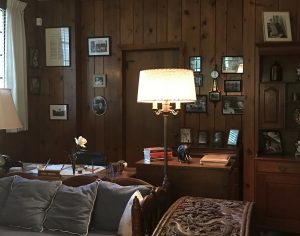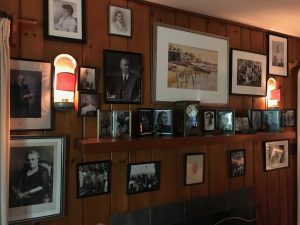 Throughout her life she was a champion for social welfare and civil rights. This woman was so amazing. She wrote 27 books, 2500 articles and over 550 columns in her life. And to think I struggle to write new postings for this blog.
Hyde Park is also home to The Vanderbilt Mansion and the New York Culinary Institute. These will have to wait for another day. From Val-Kill I wandered down to Poughkeepsie for a very late lunch on the Hudson.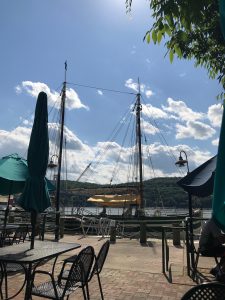 I also found a farmer's market that they have there every Monday afternoon. I bought some radishes and some chocolate truffles. I think I bought the radishes because I was feeling guilty about the truffles!